Paisley Wire Jewelry Making Tutorial
Hello lovely readers! Are you ready for a jewelry making tutorial to make a lovely wire pendant/charm? Because we have  very interesting design today for you! If you are interested in wire jewelry and beads, this jewelry making tutorial will definitely be an awesome one for you!
The term 'Paisley' is an English word for an ancient design using the 'boteh', a droplet shaped vegetable motif of Persian and Indian origins. Such designs became incredibly popular in the West during the 18th-19th centuries, following the imports of the design from British India in the form of Kashmir shawls. These patterns were imitated initially in the town of Paisley in Scotland and that's where the name stuck!
1. Begin by wrapping some 0.8mm-1mm wire around a circular dowel or mandrel (mine was about 1″/2.5cm in diameter) to create a 'tear-drop' shape to your desired size.
2. Using the tips of your chain nosed pliers, secure one end around the stem, leaving a projecting tail of approx. 2-5″.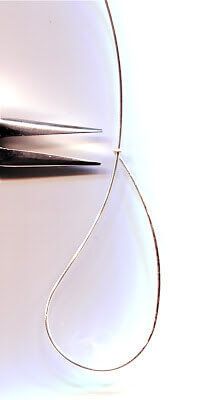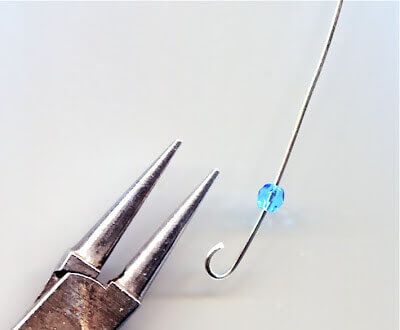 3. Working from the end of a spool of 0.8mm wire, thread the end with a bead of your choice (I used a 4mm faceted crystal). Create a curve at the end of the wire with round nose pliers.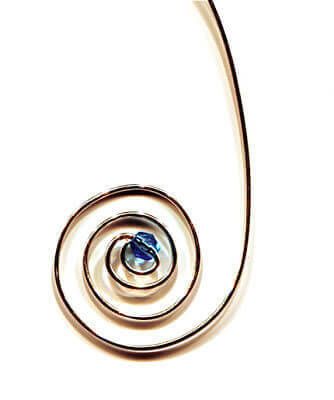 4. … and push the bead into the curve, and continue to spiral the wire around the bead – until the spiral is the same diameter as the base of the frame you created in steps 1-2.

5. Cut the wire from the spool, leaving approx. 2″ projecting and create another, much small spiral at the opposite end.

6. Working from the spool of 0.8mm, use some bail making pliers (or, a cylindrical mandrel such as a pen, or round nosed pliers, etc…) to create a row of loops. (*I used the 6mm mandrel of my bail makers).

7. Place the components that you made together, so that you know where you want to put them together.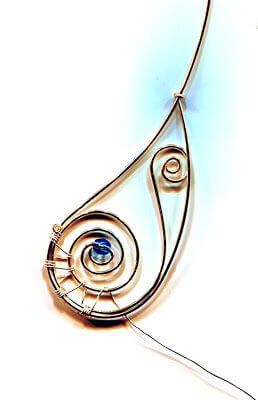 8. Cut approx. 12″ of 0.4mm wire and attach the spiral within the teardrop frame. You could add small seed beads, coloured wire.
9. If you run out of wire, just add more!

10. Next, begin binding the loops to the side of the frame: Cut another long length of 0.4mm wire and use this to attach them along the side of the frame, as shown above.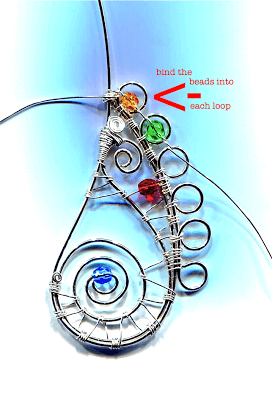 11. Once the loops are secured, cut another length of 0.4mm wire and use this to connect the beads within each loop. I used 4mm faceted crystals and wrapped the wire around each side of each loop, framing the beads inside.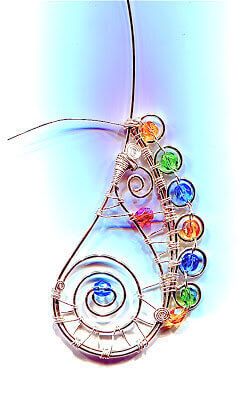 12. Above – you can see all the beads are in place and if you have any leftover wire, a small tight spiral always looks good as an extra embellishment.

13. Finally, thread a bead onto the wire projecting from the top of the frame, and following step 3, curl the wire around the bead, so that it is positioned as a suspension hanger for your pendant.

14. If, like me, you have any left over wires protruding, just make spirals out of them and they add on as decorations!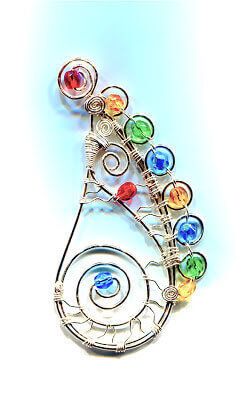 15.Spend some time adjusting it – you can wire more beads, or tweak your wires to add extra movement. You can also, push the base spiral out slightly for an extra dimensional quality.
This is just a simple openwork design to get you going… Infinite variations are possible!!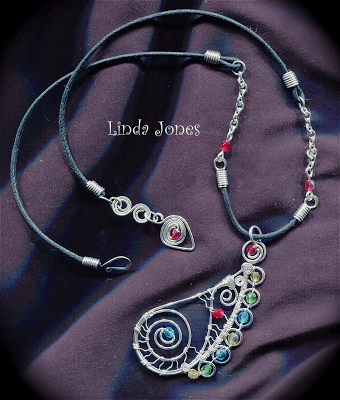 Now it's ready to suspend as a pendant from a chain, cord or both!
Experiment with different coloured beads, and binding patterns!

Plus, different ways of suspension!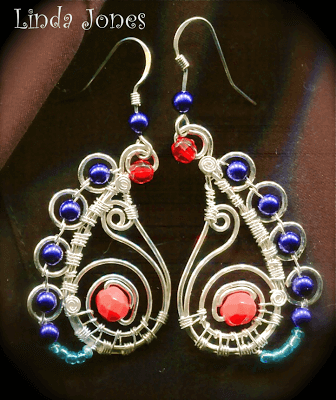 BRING SOME 'PAISLEY' BACK INTO YOUR LIFE WITH WIRE!
| | |
| --- | --- |
| | Introducing Linda Jones! She is a jewelry designer who creates jewelry making tutorials using beads and wire! She has also contributed to our to our magazine issue 29! She specializes in bespoke wedding jewellery. |
 Read more about LINDA JONES here!
Here are some options to access DIY Beading Magazine:
Subscribe to HJC to stay updated with jewelry making news! Click here!
Follow Jane Chew @ Google +
Instant Access to Over 400 Jewelry Tutorials
UNLIMTED ACCESS TO PAST AND CURRENT ISSUES IN WEB-BASED FORMAT
ACCESS TO OVER 400 JEWELRY TUTORIALS
We are running a
7-day free trial campaign.
This would mean that you will get to access all our 400 tutorials from 40+ magazine issues instantly upon sign-up!