DIY Beading Stitches for Beginners
Beaded jewelry making involves different beading stitches that varies from a very simple design to a very complicated one. These DIY beading stitches for beginners can be a great starter.
One simple beading stitch suitable for beginners is the popular technique, Peyote Stitch. This bracelet from Linda Richmond is a perfect sample and beginner design for a Even-Count Flat Peyote Stitch.
Even-Count Peyote Stitch s one of the most widely used beadweaving stitches. It's very easy to learn and you can really see you designs come to life with every row of Peyote you complete. Play, mix and match different colors of beads and you can create fabulous looking cuff bracelets! Try it with this basic free video tutorial from Jewelry Supply

Using the knowledge on how to do the flat peyote, circular components for necklaces and bracelets can be designed.  A perfect sample would be this beautiful necklace, Circular Peyote Coin Necklace by Linda Richmond.
See those circular charms? Imagine, use your creativity coz' they are also perfect for making earrings! Watch this video and learn the technique from Sarah Spoltore of BeadsFriends.
Advances beginners can also utilize the netted fringe pattern that can be used in necklaces, specially chokers.  What's nice about netting and the fringes is that you can attach charms on every point. Look closely at how Linda Richmond and her shell accents made a difference.
Learn the basic netting stitch and have your favorite teardrop beads, briolettes or charms hang beautifully on a netted necklace!
You can also try the Vertical Netting Stitch to achieve a longer fringe 🙂
Now, look at these star flowers! The star flower is made with a combination of ladder and herringbone stitch and the basic netted fringe is used for the necklace.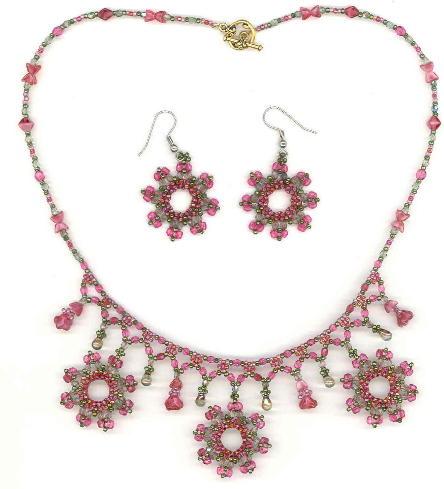 The ladder and herringbone stitch is also called the Ndebele.  The stitch got it's name from the way it causes the beads to lie which is similar to the herringbone patterns normally seen in textiles, or bricks.  This beading pattern can be worked out as flat, circular, tubular, or in combination with other beading patterns.
You've learned how to do the netting stitch for the necklace so let's try and learn the Ndeble aka Herringbone Stitch. Learning the basics will help you create your own variations.
Another popular beading stitch that is suitable for beginners is the Brickstitch. These Japanese inspired earrings were created using Brickstitch. Even the stud covers were created with Brickstitch. It is actually a fun technique because you can create patterns, similar to how these earrings were created. The combination of colors and the flowers with a picot edge made it look like a fan.
A brick stitch tutorial can be found on this link: http://www.beaditbabe.com/brick.html. Then learn from these tutorial posts how to do Increase and Decrease Brickstitch.
There are still a lot of beading stitches that can be easily followed by beginners so it is best that you never cease to explore your creative side.
Subscribe to HJC to stay updated with jewelry making news! Click here!
Follow Jane Chew @ Google +