Learning Bead Rope Crochet Technique
I find bead rope crochet technique an interesting way of creating beaded jewelries. I find it easy and can be done even when you're traveling, in front of the television, even when you have your feet curled up on the couch or on bed. I also remember my Mom loves crocheting. She used to bring a crochet kit while traveling to the mall and entertaining herself with her bead crocheting in the middle of traffic. By the time we get home, she's almost done with a piece. How amusing 🙂
Creating bead rope crochet handmade jewelries does not need too many materials. All you need is a crochet hook, crochet thread and your seed beads. All you need is to pre-string seed beads according to your desired design and in minutes, you can start your bead rope crochet project!
Thought you guys might like to learn how to do bead rope crochet technique so I searched and found a few good tutorials as your guide 🙂
First on the list is Bead Crochet Mastering the Beaded Rope with Ann Benson. With this detailed animated video tutorial you'll learn the basic steps, ins and outs and will fully understand the technique.
Mindy of In the Loop blog has also her own version of bead rope crochet tutorial. With Mindy you'll be able to see step by step pictures with written instructions.
How to Crochet a Bead Rope Tutorial
As you do bead rope crochet you'll notice that what's difficult about the technique is the first rounds of bead crochet. Now, here is a cool tip from Susie O'brien of Bead Crochet Lessons blog how her handy-dandy screwdriver can be useful!
I'm sure you're also wondering how many beads should I string to finish a piece? What if I am in the middle of my beadwork and then I found out that I need more beads? Visit Judith of Bead Line Studios and you'll find helpful Bead Crochet Designer apps for your gadgets and computers to easily solve the math problem as to how many beads should you string for making bead rope crochets.
Now, you already know the basics of learning bead rope crochet technique. Let's get on with the fun part. Creating! Here are some colorful bead rope crochet patterns for you 🙂
Bead Rope Crochet Herlequin Pattern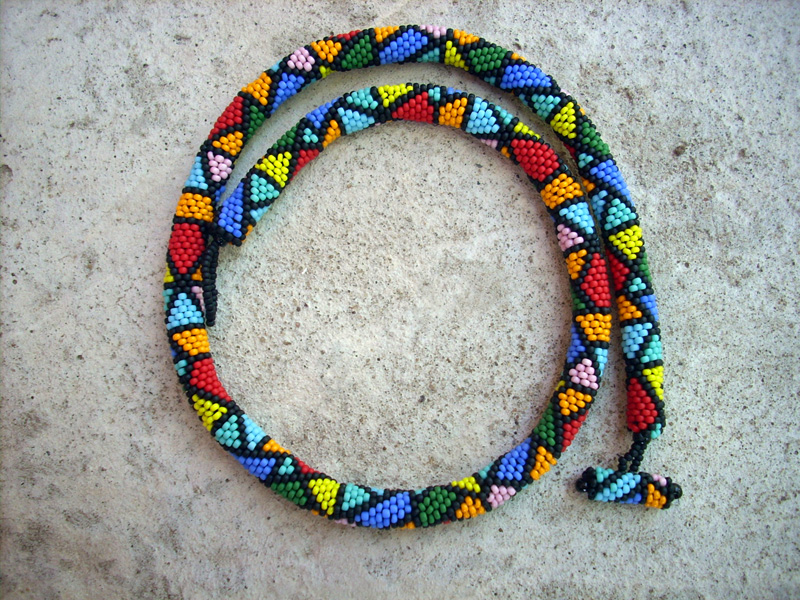 Bead Rope Crochet Mallow Pattern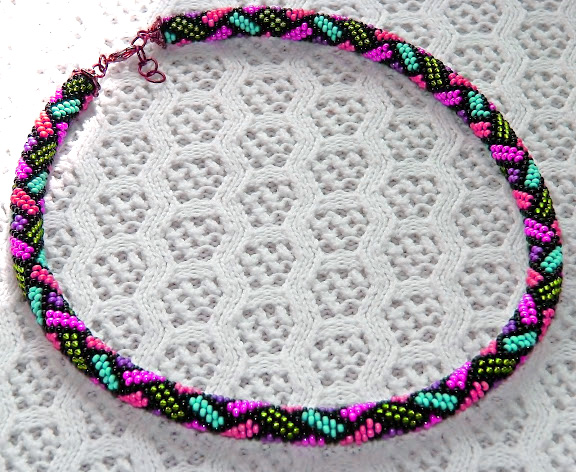 Bead Ropes PDF from Crochet n Beads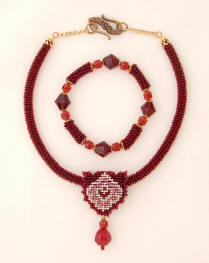 Practice makes perfect! If you want to make your own pattern try loading this free PDF bead rope crochet graph from FusionBeads.com.
Happy jewelry making 🙂
Subscribe to HJC to stay updated with jewelry making news! Click here!
Follow Jane Chew @ Google +
Instant Access to Over 400 Jewelry Tutorials
UNLIMTED ACCESS TO PAST AND CURRENT ISSUES IN WEB-BASED FORMAT
ACCESS TO OVER 400 JEWELRY TUTORIALS
We are running a
7-day free trial campaign.
This would mean that you will get to access all our 400 tutorials from 40+ magazine issues instantly upon sign-up!