Wirework Essentials: Wire clasp tutorials
It is an essential skill to learn how to make your own clasp. Though there are manufactured clasps already available in the market knowing how to create your own you can add your own style and personal touch to a finished piece. You can customize the size and would never have to buy them in packs. You can always create a clasp only when you need it 🙂 I've gathered these wire clasp tutorials and learning different wire techniques from these experts will help you come up with your own variation.
Wire Wrapping Cord Ends & Hook 'N Eye Closures by Lytha Studios
I like this idea of creating a clasp when you're using cords. This technique will give you the freedom to use bigger cords but still be able to have a perfect clasp without having to use end caps to cover the cord ends.
VISIT THIS LINK FOR THE TUTORIAL

This clasp from Ruby's Beadwork is a familiar style of a hook & eye clasp.
Ruby's hook & eye may look similar to Kathy's creation but look closely. Each one do has their own uniqueness. Learning different techniques you can come up with your own variation.
SEE KATALINA JEWELRY TUTORIAL HERE
The S clasp is also a common style for a handmade clasp. This technique is the easiest way of creating a clasp. Simple but very effective!
Here is a basic S clasp tutorial from All Free Jewelry Making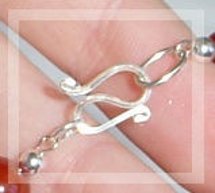 Hammering helps to harden the wire. See the difference?These hooks are from Studio Dax but hammering creates a different effect and texture on the wire.
TRY IT WITH THIS TUTORIAL FROM STUDIO DAX
Now, add more swirls or spirals, whatever you like and create a stylish clasp!
SEE TUTORIAL HERE BY SWEET BEAD STUDIO
Happy? I'm sure you are and you liked what you learned today 🙂 Cherish these wire clasps tutorials because they are wirework essentials in your jewelry making hobby 🙂 Ciao!
Are you trying to improve your wire works skills? If so, you might be interested in Wire Works Secrets written by Christine Gierer. Take a look!
Subscribe to HJC to stay updated with jewelry making news! Click here!
Follow Jane Chew @ Google +