DIY Twin and Superdou Beading Patterns
Ooohh!!! My Twin beads has arrived! 🙂
Yay! Been waiting for this moment to get my hands on these amazing beads. I just bought 2 colors as they are quite expensive. I'm going to try them out with my next project and if everything goes well I'm going to buy some more 🙂 It's been quite awhile for me, exploring different Twin and Superdou beading patterns and here are few that I think would be good for beginners, like me, with their first time beading using 2-holed beads.
These Stackers by Deborah Roberti are cute! Beginners with Twin beads can definitely do this 🙂 I like the colors too. They're vibrant and kids will love this. You can stack 'em in threes:)
Another beginner Twin bead beading pattern is the Tweed Bracelet by Preciosa
Looking at the pattern it may take awhile to finish the bracelet but still I can consider this fit for beginners as there is only 1 weaving pattern to follow.
CHECK OUT FULL BEADING PATTERN HERE
[showmyads]
Now, let's level up a bit and form shapes with Twin and Superdou beads! Another one from Deborah Roberti is the Starburst Earrings.
This design has many possibilities. You can use them as earrings, pendants and one design I could think of is to create several starbursts to form a bracelet, similar to this beautiful bracelet from Centperles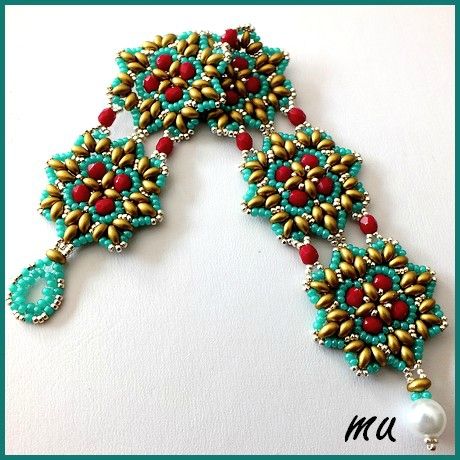 Gorgeous, isn't it? Now see that the bracelet is composed of several units connected by beads. CHECK OUT FULL PATTERN HERE (requires translation)
So that's it for now. Bye for now as I'll be busy with my Twin beads 🙂 Cheers!
Subscribe to HJC to stay updated with jewelry making news! Click here!
Follow Jane Chew @ Google +