DIY Silk ribbon jewelry making ideas
Silk ribbons are materials that are commonly used in weddings, particularly used for making wedding bouquets. They're smooth, shiny and colorful. They're not that expensive too.
A Hanah Hand Dyed Silk Ribbon Collection,Hand Dyed Silk Ribbon
In crafting they are also used in many ways a crafter could think of. With a little ingenuity you can also use silk ribbons in jewelry making.
Though silk ribbon is an inexpensive item but here's a cool tip on how to dye your own silk ribbons. This is a cheaper way of producing colored silk ribbons than having to stock bundles in different colors. Plus, you can also experiment and  produce your own color.
Want to find out how? Visit Kitty and Me Designs by Pamela Kellogg blog Tutorial – Dyeing Silk Ribbons with RIT Dye
Now, I'm sure you want to try and make your own silk ribbon inspired accessories. Here are great ideas frm various artists how to incorporate silk ribbons in jewelry making.
Silk-covered Bangle Tutorial by artsy/craftsy
Dupioni Silk Ribbon Roses Necklace, Belt, or in your Hair DIY by love Maegan
Free Tutorial Friday: Hand Coiled Finding for creating adjustable Necklaces from Glass Addictions by Jen Cameron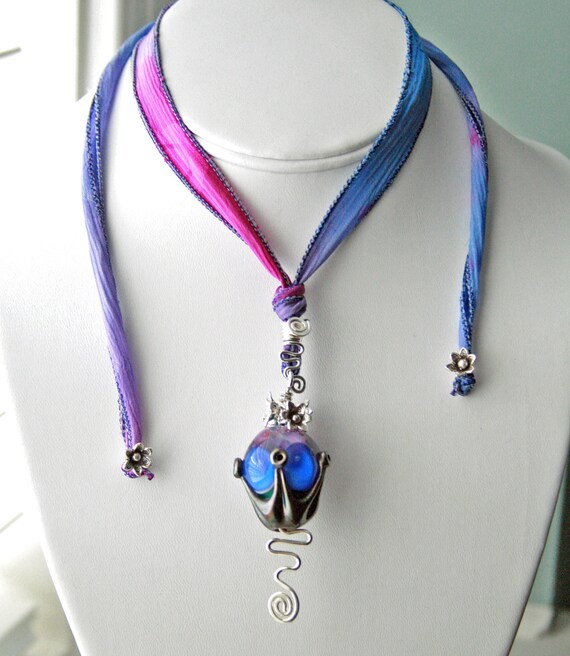 Silk Ribbon statement necklace DIY at DIY Fashion
Square Knot Bracelet Tutorial by Art Bead Scene
How to Wrap a Bangle Bracelet in Silk Ribbon by Beadaholique
Momma's Boy Bracelet by Art Bead Scene
Beaded Wrist Watch with Silk Ribbon Clasp by Reem
I hope you had fun using silk ribbons and got ideas in creating your own silk ribbon inspired accessories. Feel free to share if you have a great design for silk ribbon necklace or bracelet. Join our Fanpage and share!
Subscribe to HJC to stay updated with jewelry making news! Click here!  
Click and view our membership packages:
Our latest issue from DIY Beading Club:
Follow Jane Chew @ Google +
Access more jewelry making tutorials by subscribing to Gold Membership!

7-Day Free Trial, No Sign-up Fee!

MONTHLY FEE $7

Member-only Access

Instant access to current and past magazines and tutorials. Over 40 magazine issues/ 400 jewelry tutorials written by our contributors!