DIY Mobius/Rosette Chain Maille Unit Tutorial
A mobius or commonly called, "Rosette" is a chain maille unit where 3 or more jump rings are linked together forming a rosette-like shape. Mobius Ball from Mailleartisan.org

Mobius chain maille unit can be used as a single design or a component to which other chain maille weaves can be linked. The mobius chain maille weave are for beginners and in just 2 simple steps you'll be able to make one mobius unit.
First, link 2 jump rings.

Bring up one more jump ring and attach the first 2 linked jump rings.

Now, if you try to spread the rings, all 3 jump rings are linked to each other.

Gather all 3 jump rings and you now have 1 unit of mobius chain maille.


That's it! You can now experiment and explore different ways how to use the mobius unit. You can also use different colors and/or sizes of jump rings to see what designs you can come up with. Here are some mobius/rosette chain maille weave patterns that you can try.
Chain Maille Rosette Link Tutorial from Allfreebeadedjewelry


MOBIUS LINK BRACELET from Beadsisters' Library


Wiggle (Mobius) from Rebecca Mojica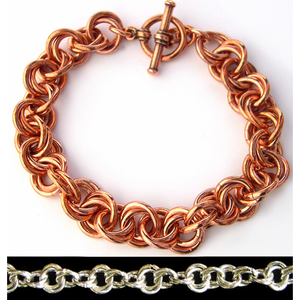 Hope you learned from this short sharing of how to do chain maille mobius unit. This chain maille weave can be a good start for chain maille beginners.
Ciao!


Subscribe to HJC to stay updated with jewelry making news! Click here!
Click and view our membership packages:


Our latest issue from DIY Beading Club:

Instant Access to Over 400 Jewelry Tutorials
UNLIMTED ACCESS TO PAST AND CURRENT ISSUES IN WEB-BASED FORMAT
ACCESS TO OVER 400 JEWELRY TUTORIALS
We are running a
7-day free trial campaign.
This would mean that you will get to access all our 400 tutorials from 40+ magazine issues instantly upon sign-up!