DIY Beaded Christmas Tree Tutorial
Last week we shared Off the Beaded Path's 3D Christmas Tree Pendant Tutorial

Today, I saw Jewelry Making Professor's free video of the week and it's also a Christmas Tree Pendant. It is kind of different than the usual beaded Christmas Tree we see and so this is a good tutorial to learn.

With Eri's Christmas Tree Pendant Tutorial you will learn another way how to use Figure 8 weaving technique.
I also sourced out a few good tutorials and unique designs for beaded Christmas Trees so you'll learn different ways how to create beaded Christmas Trees. You can wear them as pendants or use as charms.
Beaded Crystal Christmas Tree Tutorial from BeadJewelryMaking.com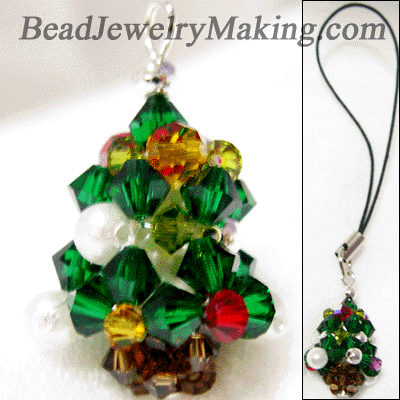 Bead Doctor Tutorial – Cute Christmas Tree Decorations

Learn how to create triangle with Peyote stitch tutorial with Sara of BeadFriends

Beaded Christmas Tree Tutorial by Mary of Something Wilde

Now, you've got a few good ideas how to make a beaded Christmas Tree. I'm sure while you learn something exciting will pop up your mind and you can come up with your design for a beaded Christmas Tree.
Hope you like these shared tutorials 🙂 Ciao!

Subscribe to HJC to stay updated with jewelry making news! Click here!
Click and view our membership packages:

Our latest issue from DIY Beading Club: