FREE Featured Peyote Beading Patterns
Peyote beading or stitch is a wonderful beading stitch. Its versatility can lead to various creations. Actually, Peyote beading may be difficult at first, but if you know the basic, immediately you can do wonders with it.First, you got to learn how to weave Peyote Stitch and to start off, this Even Count Peyote Stitch FREE PDF copy from Unique You is a great starter.

If you're comfortable watching video tutorial you'll have fun watching JewelrySupply as they teach you How to create an Even Count Peyote Stitch

Now that you know the basic why don't you try and make a simple Peyote Bead Ring from BeadJewerlyMaking.com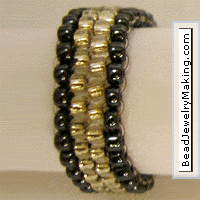 If you like patterned Peyote bead rings you can follow these patterns from BellanOnline's Shala Kerrigan


…and by adding more rows of Peyote stitches you can make bracelets with it!
Basics of Even Count Flat Peyote Tutorial by Gail Nettles


You can also create your own patterns with this FREE Printable Peyote Stitch Graph from Fire Mountain Gems. All you need are colored pens and you can start drawing the pattern you like with one circle, equals to one bead.


Now, let me tell you a secret about Peyote Stitch. I call this the mantra of Peyote Stitch and that is,"PICK UP A BEAD, SKIP A BEAD, PICK UP A BEAD." As you do your beadwork with Peyote Stitch, just keep in mind this mantra and you will never go wrong with Peyote.
I hope these patterns and links are helpful. Like I said, Peyote Stitch is a versatile beading stitch so start making wonders with it! Till next time! ♥


Join as our subscriber and redeem a free copy of the tutorials!
Instant Access to Over 400 Jewelry Tutorials
UNLIMTED ACCESS TO PAST AND CURRENT ISSUES IN WEB-BASED FORMAT
ACCESS TO OVER 400 JEWELRY TUTORIALS
We are running a
7-day free trial campaign.
This would mean that you will get to access all our 400 tutorials from 40+ magazine issues instantly upon sign-up!