Peyote Stitching for Advanced Beaders
If you have been beading for a long time of have done some peyote stitching before, I can give you some tips and tricks to help you make some great creations.
http://www.stormrisingdesigns.com/pd_funky_fringe_peyote_bracelet.cfm
An important tip to always remember about beading is, strings and new design patterns or styles an be added after the bulk of the piece is created. If you have a stunning choker sized flat peyote piece, you can make it trendy and hip with some colored bead strings with large beads or even gems and pearls at the end.
http://triz-beadingmania.blogspot.com/2008_05_01_archive.html
If you have some rounds of a pencil size that you would like to make into some trendy dangling earrings, you can add a four-way string set that connects at one and for hanging and add as many dangles of any length to the other end.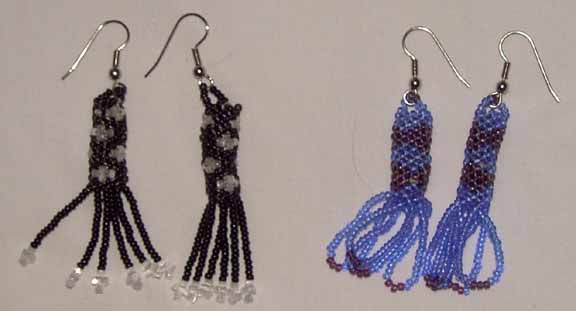 http://www.nativeamericantrade.com/zencart/index.php?cPath=8&main_page=index
Combining squared or rounded lined beading techniques to the edges of your creations makes them hot and popular.
Download lots of free jewelry making tutorials at DiyLessons! Are you a jewelry (jewellery) making teacher/ tutor? You can also list your tutorials here too.Don't miss a post! Subscribe to Handmade Jewelry Club by Email FREE